Our philosophy
Customer satisfaction as well as the highest quality of our products is our top priority. As a competent partner and complete vendor the company Stanzwerk Oberscheden provides solutions to single-item manufacturing up to large-scale production of steel and metal components as well as to individual cases in metal working.
Our unique feature
Due to our outstanding production depth, we are able to offer the production of highly complex components and assembled groups out of one hand. Our production expertise enables us to view the manufacturing process in all its individual steps as an entire process of production.
CNC laser cutting
CNC laser cutting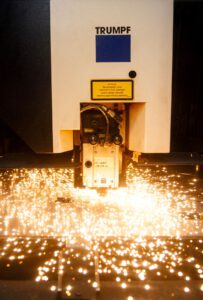 The processing of most products starts with cutting the contour from sheet metal. For the cutting process there are three Trumpf laser cutting lines available. Subject to the product material and thickness the cutting is done under application of CO2 or O2 cover gas. In order to enhance the quality of our powder coating, all laser cut parts are deburred and descaled. Thereby the durability of the powder coating has been increased significantly.

Technological limits:
CNC laser cutting up to 5.0 kW power
Maximum sheet panel size 3000x1500 mm
Sheet metal up to 20 mm thickness
High-grade steel Ni up to 15 mm
Aluminum up to 12 mm
CNC folding and pipe bending
CNC folding and pipe bending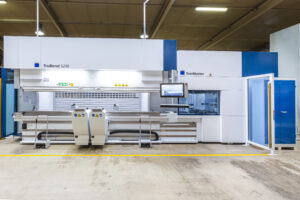 At CNC folding components are formed into desired shape by using CNC programs. For these processes there are five folding benches available as well as a pipe bending machine. Our staff in this department has numerous trainings and long time experience in handling the machines. Our latest acquisition in this production area is a Trumpf folding bench. A special feature of this machine is its automatic angle correction. Due to this additional function, the required angles are complied with and are continuously ensured regardless of thickness and consistency tolerances of the root material. Furthermore, the machine was enhanced with an automatic tool exchange which reduced the rigging times essentially. This leads to considerably reduced production cost especially in small-scale serial production. With the incorporation of the automatic tool exchange system the effective productivity of the machine is increased significantly.

Technological limits:

CNC folding
CNC folding with automatic angle sensors and bending support
Dimensions machine 1: 3000 mm x 450 mm x 170 tons (length, height, pressure force)
Dimensions machine 2: 4000 mm x 132 mm x 220 tons (length, height, pressure force)

Pipe bending
Minimum pipe diameter = 17,0 mm
Maximum pipe diameter = 76,1 mm
CNC nibbling
CNC nibbling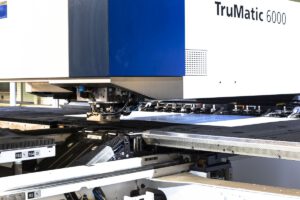 At CNC nibbling the contour is separated from the sheet metal by using a clipping punch. Depending on the procedure this separating process is more cost efficient and more precise. With our punching-, nibbling-, laser combination machine we can do three manufacturing processes within one mounting. The machine has special insert tools available and is capable of forming nozzles as well as it also molds threads.

Technological limits:

Maximum sheet metal board size 3000 x 1500 mm
CNC punching, nibbling up to 8 mm thickness
Laser cutting up to 2.7 kW
Welding
Welding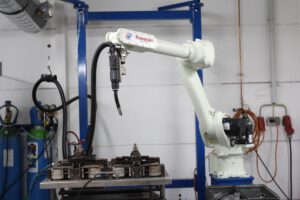 We are a specialized welding company certified under DIN and we can offer parts with enhanced requirements for tolerances and reliability. The welding process depends on the material properties and specifications of the individual construction. Subject to predetermined tolerances and the quantity of parts the product is either welded by hand or joint together by a welding-robot.

Specialities:

MIG / MAG / WIG
EN 1090-2:2018
EN 1090-3:2008
DIN EN ISO 3834-2:2006-03
Joining technique
Joining technique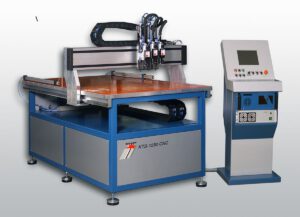 As an amplification of our manufacturing spectrum for possible joining techniques we have a CNC controlled stud welding unit at our disposal. It is ensured by means of welding power monitoring that the studs connect with the base material through a robust joining connection. Furthermore, we dispose of an automatic stud force fitting machine with automatic stud feed including process monitoring. As an additional technique we have a variety of spot welding machines in our machine park which we use, for example, to spot weld nuts or to join sheet metal parts with each other.

Technological limits:

Stud size up to M10
Pressure joining of steel with thickness of 1-6 mm
Spot welding and projection welding up to 200 kVA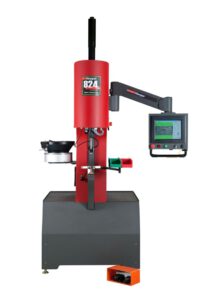 Powder coating
Powder coating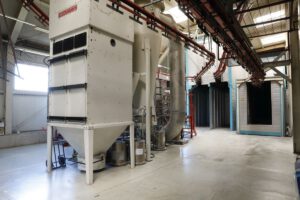 Powder coating is a procedure in which electro static charged powder is sprayed onto the parts that are to be coated. After application the parts are moved into an oven in which the powder melts at 250°C and joints with the base material. The coated steel and metal parts are gaining a long lasting protection against corrosion and therefore a durable utilizability. For our parts we achieve a resistance of 504 hours in the saltwater spray test, which is carried out according to DIN 9227 by default. The coating procedure is characterized by its environmental compatibility because the excess powder is recycled and reused.

Technological limits:

2500 x 800 x 1.500 mm (l x w x h)
straight profiles up to a total length of 3000 mm
Warehousing
Warehousing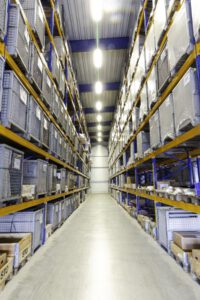 In order to implement short delivery times for our customers, we broadened our services. In the year 2010 we built a storage building which enables us to deliver the products within 24hrs after release order.
Quality assurance
Quality assurance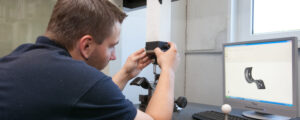 For more than 120 years of company history the expertise of our sheet metal working has developed from which our customers are benefiting today. Our goal is to detect deviations in quality early and to eliminate the cause of faults to avoid their recurrence. In order to achieve this goal, we continuously optimize our work sequence of operation, implement latest technologies and practice lifelong training with the entire team. Every single staff member is responsible for the quality of his work.

Specialities:

DIN EN ISO 9001:2015
Grade A-delivery-status at our customers

Certified welding company according to:

EN 1090-2:2018
EN 1090-3:2008
DIN EN ISO 3834-2:2006-03
Stanzerei und Werkzeugbau Hild
Punching
Punching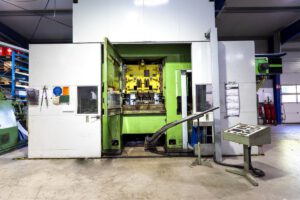 We build your punched, pressed and stamping parts as per design. For manufacturing the parts various presses with up to 300 tons pressure are at disposal. Due to cooperation with competent partners, we are able to deliver completely assembled groups.

Technological limits:

Pressing with up to 300 tons pressure
Roller feed up to 12 mm²
High speed pressing up to 160 tons
Pultrusion up to 250 tons pressure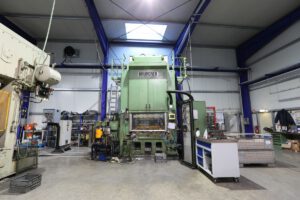 Tool making
Tool making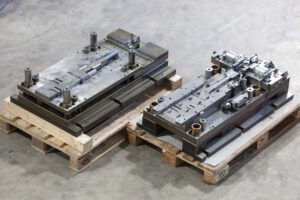 Our sister company Stanzerei und Werkzeugbau Hild GmbH & Co KG disposes of a highly competent team of tool mechanics with many years of professional experience. Punching, bending, pultrusion and follow on composite tools are self constructed, built as per design and serviced or overhauled as required.
CNC milling
CNC milling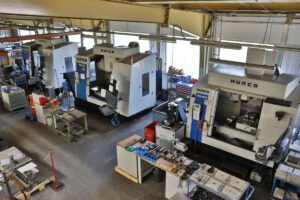 In the area of tool making CNC mills have been indispensable for a long time. With our CNC machining center we are able to manufacture tolerances within the hundredth millimeter range and also can work with parts of hardness up to 64 HRC. Due to our continuous brand utilization of five Hurco CNC mills, we prevented interfacing problems and minimized additional software charges. Subsequently, this is a benefit for our customers.

Technological limits:

CNC-5-axes-machining center - work dimensions up to 1060 x 610 x 610 mm
CNC-3-axes-machining center - work dimensions up to 1525 x 660 x 610 mm
Hard milling up to 64 HRC
Universal mills - work dimensions up to 1000 x 440 x 400 mm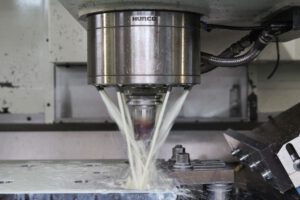 CNC wire cutting
CNC wire cutting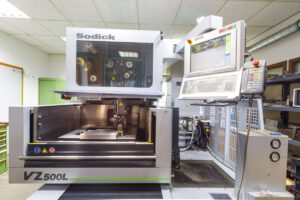 At wire cutting the material is removed by spark erosion. This process is time consuming but hardly to replace at complex contours of hardened materials. Predominantly, cutting stamps and templates for punching tools are wire cut.

Technological limits:

500 x 350 x 220 mm (l x w x h)
Surface grinding
Surface grinding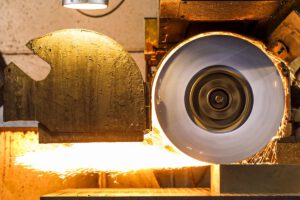 At the surface grinding procedure the parts are fixated on a table. The table is moving in a pendulum manner underneath the grinding wheel until all parts have the same required height. Most of the parts are cutting stamps as well as templates for punching tools. Surface grinding is also used if tolerances of contract work so require.

Technological limits:

Surface grinding machines with profile fittings
Work dimensions up to 1200 x 550 x 450 mm
Quality assurance
Quality assurance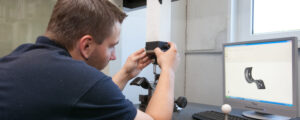 For more than 120 years of company history the expertise of our sheet metal working has developed from which our customers are benefiting today. Our goal is to detect deviations in quality early and to eliminate the cause of faults to avoid their recurrence. In order to achieve this goal, we continuously optimize our work sequence of operation, implement latest technologies and practice lifelong training with the entire team. Every single staff member is responsible for the quality of his work.

Specialities:

DIN EN ISO 9001:2015 Grade A-delivery-status at our customers